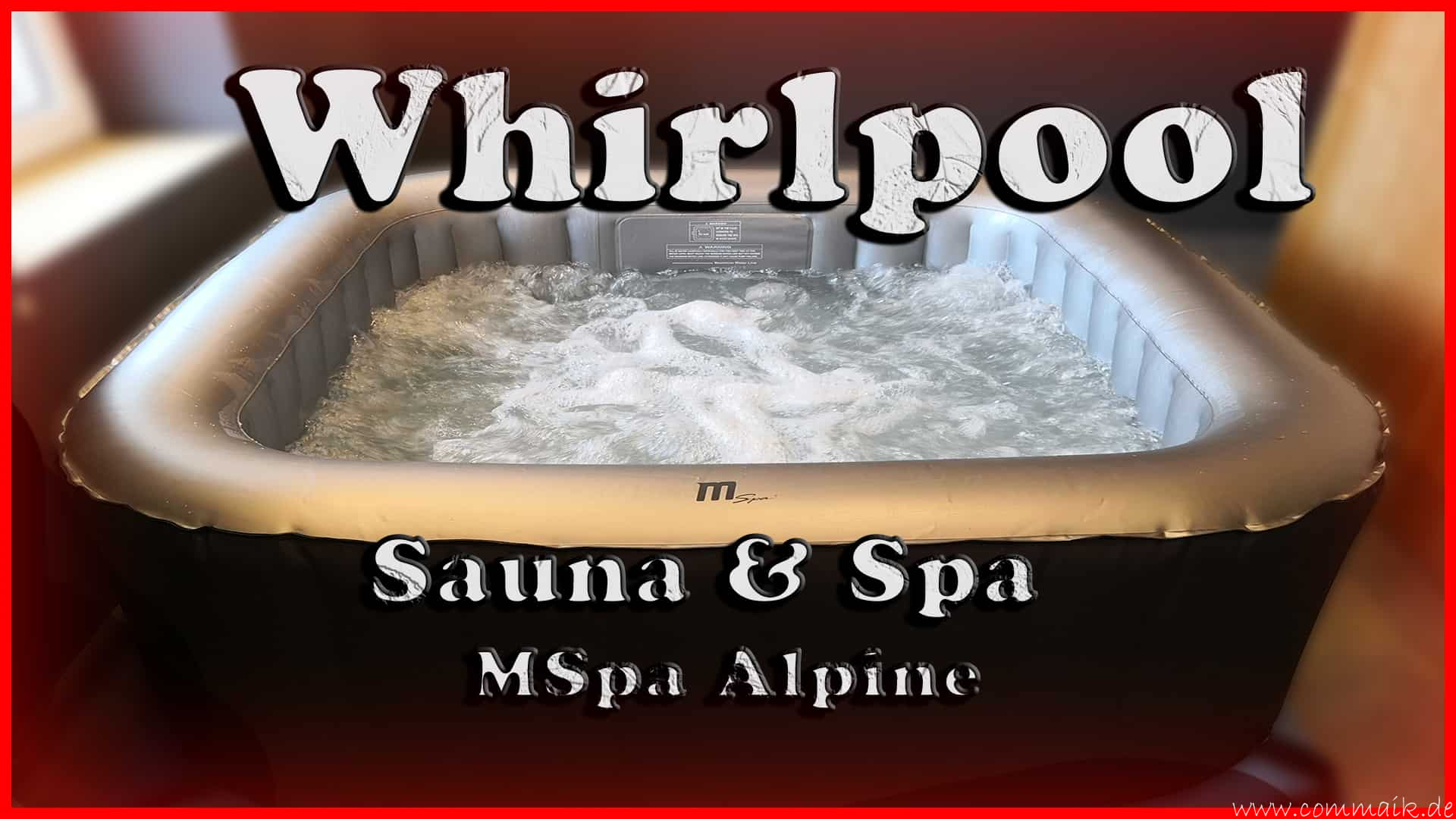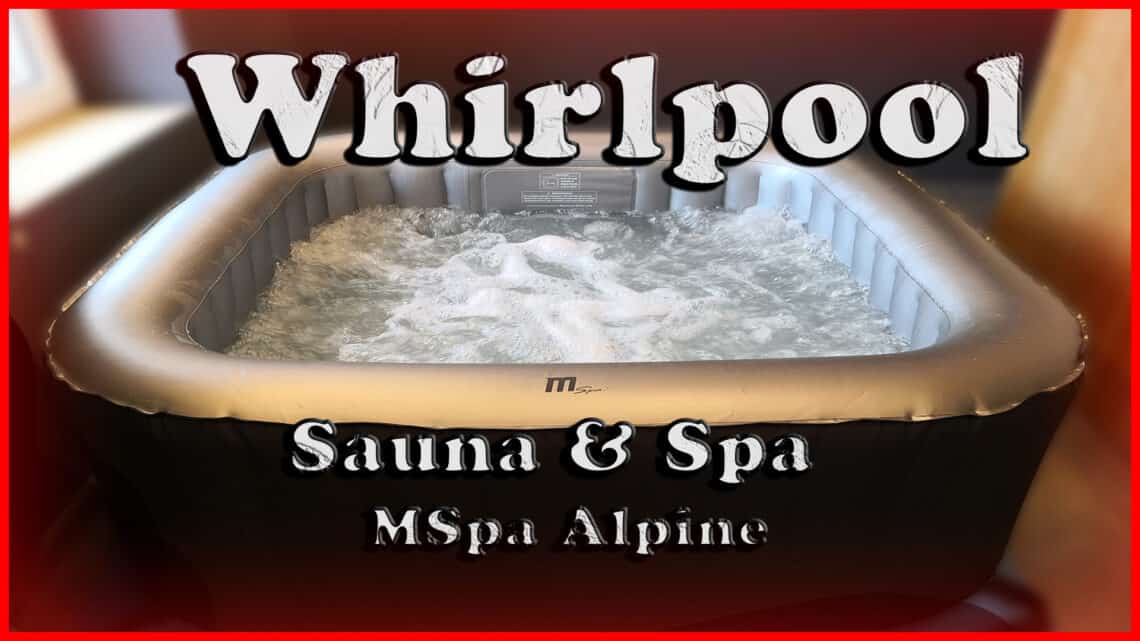 Inflatable whirlpool MSpa Alpine Tekapo – experience after 1 year
Lesezeit

12

Minuten
We were able to extensively test our inflatable hot tub, the MSpa Alpine, for a good year. Now it's time to give feedback on usage, maintenance, pros and cons. I wrote a first post about the construction of the hot tub here.
Technical data Mspa Alpine
The spa is designed for 4 people and is also sold under the name Mspa Tekapo. The square side length is 158 cm x 158 cm with a side height of 68 cm. The internal dimensions are 118 cm x 118 cm x 68 cm with the filling height being limited to approx. 45 cm.
A total of 650 liters of water can be filled.
The inflatable whirlpool has a relatively compact design. The pump, heating technology and bubble technology are installed in one of the side walls and are firmly connected to the pool. Thus, there is also no external filter.
---
---
Water is drawn in on the inside through an opening in the wall, pumped through the heating element and returned to the pool through a second hole. The cartridge filter is mounted in front of the inlet opening.
Power is supplied via a 220V Schuko plug which has its own circuit breaker. The risk of short circuits in the event of water contact is thus significantly reduced.
The pool can be set up within a few minutes via the integrated inflation function. All that is needed for this is a power connection.
A protective cover which is stretched over the pool with child-proof quick-release fasteners reliably protects the water from contamination.
---
BRAST Whirlpool aufblasbar MSpa | 2-8 Personen | viele Modelle rund und eckig | 125-224cm | In- Outdoor Pool | bis zu 144 Massagedsen | inkl. Aufblasfunktion Abdeckung Timer Heizung | Otium*
: 6 verstellbare Water-Jet-Dsen sowie 125 360 Luftsprudel-Massagedsen in 3 einstellbaren Intensitten mit Tausenden von Blasen sorgen fr ein entspannendes Massageerlebnis. Dank seiner Bauweise ist unser Whirlpool im Betrieb einer der leisesten Whirlpools der Welt. Dank wasserfester digitaler Kabelfernbedienung zur zentralen Steuerung aller Funktionen ist eine komfortable Bedienung auch whrend Sie sich im Pool aufhalten mglich
--: Unser Whirlpool ist zustzlich mit einem in dieser Preisklasse nie dagewesenen UVC-Desinfektions-Generator ausgestattet, der neben dem ausgeklgelten automatischen Filtersystem und dem antibakteriellen Pool-Gewebe die Verwendung von Chemie fr beste Wasserhygiene stark reduzieren hilft
: Der Energiespar-Timer ermglicht, die Heizung automatisch vorab zur gewnschten Zeit einzuschalten. Patentierte PTC-Keramik-Heiz-Technologie 20 bis 40C mit Abschalt- und Standby-Automatik fr erheblich lngere Lebensdauer und weniger Energiekosten bei krzerer Aufheizzeit
. Ein automatischer Filterwechsel-Alarm, extradicke 6-Schicht-Materialtechnologie, Anti-Rutsch-Boden, patentierte PTC-Heiztechnologie von 20-40C, Kindersicherung, Auentasche und Schnell-Aufblasfunktion durch Tastendruck mit Abschaltautomatik runden das Profil unserer Wohlfhl-Oasen ab
: Gre: 185x185x68cm (Innen 145x145x68cm) Leistung: 2.300W, 1.500 Watt Heizung + 720 Watt Luft-Massagedsen (3 Stufen 300W/500W/720W) Fllmenge: 930 L Spannung: 220-240V/50Hz mit 5,10 Meter Anschlusskabel Filterpumpe: 12V/60W, 1.800 Liter/h 6-Schicht PVC-Gewebe PTC-Heizung: 20-40C Timer: 1-99h Ozon-Generator: 5,5W, 30-50Mg/h 125 Massagedsen 6 Water-Jet Wasserdsen, Druck je Dse: 0,5-0,7bar UVC-Desinfektion: 2.000uW Aufheizzeit: 1,5-2C pro Stunde Gewicht: 42kg
Zuletzt aktualisiert am 5. December 2023 um 23:45 . Ich weise darauf hin, dass sich hier angezeigte Preise inzwischen geändert haben können. Alle Angaben ohne Gewähr. (*) Bei den verwendeten Produktlinks handelt es sich um Affiliate Links. Ich bin nicht der Verkäufer des Produktes. Durch einen Kauf über den Link werde ich am Umsatz beteiligt. Der Preis ändert sich für dich jedoch nicht.
---
Installation location MSpa Alpine whirlpool
The inflatable whirlpool was purchased for the SPA area in the basement and also operated there from fall to early summer. Only during the summer months the pool was placed in the garden. Both variants are also possible permanently.
Put inflatable hot tub in the garden
In principle, year-round outdoor operation is possible. The pool is very robust and the integrated heater should be able to maintain the temperature, thanks to the good insulation even in winter – if you want to afford the electricity bill. But more about that later.
It should be understood that the spa requires a permanent power supply for water treatment. An outdoor socket or garden socket is therefore necessary.
After about 3 months in the sunny area, I could not notice any fading. Especially at the transition from the cover to the hot tub, I would certainly have noticed. The UV protection seems to work. This is likely to play a not inconsiderable role, especially for permanent users in outdoor areas.
One disadvantage, however, in my opinion, is the increased amount of dirt entering the water. Despite showering before swimming in the pool, there were significantly more dirt particles and dust in the water than was the case in the basement. This should not be underestimated in terms of water quality or cleanliness.
The cover, on the other hand, has reliably protected the hot tub. This could be easily seen from the deposits on the tarp which brings me to another feature at this point: the tarp sags in the middle and the dirt collects there with the rainwater.
Alone, it is not so easy to remove the tarp so that the dirty water is not poured into the pool. Here you need at least 2 people. However, as long as the hot tub is under an additional roof, there should be no problems.
---
---
During the summer, the outdoor temperatures in the past year 2021 were rather restrained. The maximum of just over 30°C on some days is well below the target of 38°C for the pool water.
To my amazement, the black pool, despite being in the sun, did not heat up. I would have expected a greenhouse effect due to the dark color and the tarpaulin and thus much higher temperatures of the water.
In practice, even after a sunny day, the water temperature was only just above the outside temperature. Those who like it warmer now will have to turn on the heating.
Set up inflatable hot tub in basement SPA
We used the Mspa Alpine indoors for a good 9 months of the year. More precisely, in the basement of the house. By the way, for the transport between the installation sites you need at least 2 people because the pool is quite bulky and heavy.
The basement room has a size of about 20 square meters with a height of 2.30 meters. The walls are solid masonry and treated with special plaster and paint for wet areas. The floor is tiled, which has proven to be particularly advantageous when emptying the pool.
Since the basement has no own heating and is perfectly insulated by the approx. 60 to 80 cm thick walls, the room climate is relatively constant in winter with approx. 10°C and in summer with up to 15°C – however also suboptimal for the operation of a whirlpool – keyword condensate and mold.
However, we did not get a problem with mold although I would have expected that especially in winter. We heated the room up to about 20°C with our Blade infrared heater before use and aired it out vigorously after the SPA.
Nevertheless, one should be aware that the pool, at 38°C, generates quite a bit of water vapor through evaporation. This moisture must be removed or compensated for, otherwise the formation of mold is inevitable.
---
VEITO| infrarot-Heizstrahler| Terassenstrahler| elektrisch| 4 Heizstufen mit Fernbedienung| 2500 Watt| IP55| Infrarotheizung | Umkippschutz| schwarz| Elektroheizung| TÜV/GS zertifiziert| Wandmontage*
Infrarotheizung - deckenstrahler mit 4 Heizstufen; 2500 Watt; Carbon Heiztechnik der optimale Wärmestrahler im Innen-/Außenbereich (outdoor); geeignet für die terrasse
Kein Staubaufwirbelung wie bei einem Heizlüfter, somit ideal für Allergiker; kein Vorheizen, innerhalb von Sekunden die Volle Leistung, direkt aus der Steckdose - keine gasflasche mehr schleppen; geruchlos, kein Sauerstoffverbrauch, kein Lärm
Einzigartiges und flaches Design; robustes Aluminium-Gehäuse; IP55 - Sand- und Strahlwassergeschützt; Verstellbarer Neigungswinkel; Wand-/Deckenmontage; Teleskopstativ (optional); LED-LICHT-Anzeige
Einsatzgebiete: Terasse, Wintergarten, Partyzelt, Balkon, Garage, Keller, Garten, Werkstatt, Cafe, Restaurant, Badezimmer, Hotel, Wellness, Wickel-tisch, Sporthalle, unter Markisen, Holzdecken
Infrarot Fernbedienung; Wand- und Deckenhalterung (Winkel einstellbar); LED-DIGIT-Anzeige; Umkipp-/Überhitzungsschutz; TÜV/GS geprüft; mehr als 10000 h Lebensdauer des Heizstabes; Witterungsbeständig.
Zuletzt aktualisiert am 5. December 2023 um 18:51 . Ich weise darauf hin, dass sich hier angezeigte Preise inzwischen geändert haben können. Alle Angaben ohne Gewähr. (*) Bei den verwendeten Produktlinks handelt es sich um Affiliate Links. Ich bin nicht der Verkäufer des Produktes. Durch einen Kauf über den Link werde ich am Umsatz beteiligt. Der Preis ändert sich für dich jedoch nicht.
---
Power consumption inflatable whirlpool MSpa Alpina
A very important key figure for us when buying the pool was the expected power consumption. The pool holds 650 liters of water which must be cleaned and heated. Of course, the bubble function of the spa is mandatory. All this consumes electricity.
As already written above, power is supplied via a 220V Schuko plug with integrated short-circuit protection. With a max. Power consumption of about 2.1 – 2.2 kW (pump + heater + spa at the same time), the pool hangs on a circuit with 16A fuse and 30mA circuit breaker (FI).
During the entire use there were no technical problems!
The performance data of the electrical components read as follows on paper:
Pump (filter operation) – 35W
Heating – 1.5 kW
Spout – 0.6 kW
While heating and bubbling can be switched on and off manually via the wired remote control, the filter operation is de facto always active. Provided the power is on, the water is pumped through the filter for one hour every 4 hours to maintain water quality.
The heater managed a good 2°C per hour at a room temperature of about 15°C. This is in accordance with the technical data sheet, and also takes into account the temperature loss to the environment.
---
Video of the long-term test of our whirlpool
In a long-term test, I measured and evaluated the power consumption in different situations. I also analyzed the effort and cost of water purification. You can find all this in the following video
If you want to see more of me and my projects, feel free to check out my YouTube channel.
Abonniere COMMAIK auf YouTube
---
Using a current meter, we were able to measure an average value of 1420 W to 1450 W for the heating function. The bubble function draws 637 W from the power socket and the filter function consumes 29 W. Overall, the MSpa Alpine Whirlpool is more economical than officially stated.
So how does this affect ongoing operations over a longer period of time? For this purpose, I logged 4 test series. 2 test series in heating mode and 2 test series in standby filter mode.
A 5th test series was to measure the consumption when holding the temperature. Despite the fact that we get our electricity from our own PV system, I assume an electricity price of 0.30 EUR to ensure comparability. The room temperature was between 10°C and 12°C in each case.
1st test series – standby/ filter operation
1. 125 h runtime – total consumption 0.869 kWh – corresponds to 0.007 kW/h
2. 212 h runtime – total consumption 1.383 kWh – corresponds to 0.007 kW/h
The pump runs every 4 hours for 1 hour to push the water through the filter. The cost would thus be 5 cents per day or EUR 1.50 per month.
Since a water filling is charged with approx. 4 euros (corresponds to approx. 6 EUR for a cubic meter of tap water) it can be quite more favorable to filter the water further instead of emptying and refilling the pool.
2nd test series – heating up from 11°C to 38°C desired temperature
19 h running time – total consumption 25.861 kWh – corresponds to 1.361 kW/h
14 h runtime – total consumption 21.985 kWh – equivalent to 1.570 kW/h
Due to the long heating times, I could not stop the measurement when the 38°C was reached. Both values therefore also include the consumption values for the filter function and for maintaining the temperature after it has been reached.
In practice, however, this is of secondary importance as I am concerned with the actual costs incurred in the calculation. The cost per heating process is thus between 6 and 8 euros.
3rd test series – maintain temperature at 38°C
25 h runtime – total consumption 7.733 kWh – corresponds to 0.309 kW/h
At a room temperature of just over 12°C, the inflatable spa loses about 10°C per day. Once the pool is heated up to 38°C, the cost of electricity is about 2.30 EUR per day to maintain the temperature.
Since the heating regulates itself automatically, it can make sense to keep the pool permanently at 38°C on planned bathing days.
We used the pool every weekend especially during the winter months. The water was heated high one day before. The electricity costs were therefore just under 10 EUR per week, or 40 EUR per month.
---
Inflatable hot tub – water purification and water costs
In addition to the cost of electricity, of course, there are other costs associated with keeping clean water available. In addition to the pure water costs, there are also the expenses for water treatment.
I calculate with our water supplier with 6 EUR per cubic meter of tap water. This includes fresh water, wastewater, stormwater fee and basic fee. Accordingly, a 650-liter fill costs me just under EUR 4.
When the pool was in the garden, the water was much more polluted and therefore a water change was more frequent. If the pool is only used as an (expensive) paddling pool, changing the water once a month is probably sufficient.
However, if you want to relax in the SPA whirlpool spa and value clean water, you can not avoid regular water changes. However, in my experience, the change intervals can be significantly extended with a thorough shower BEFORE getting into the pool.
Furthermore, the use of sunscreen, skin protectants or skin care oils should be avoided. The cartridge filter failed to clean the "oil film" on the water surface.
With the activation of the bubble function, a coarse and firm foam is then formed. By the way, it will be even worse if you soaped up with shampoo or shower bath before the floor.
Water purification is primarily performed by the cartridge filter. This reliably filters the suspended particles out of the water. However, it is not able to filter dirt from the water surface. The suction is too weak for that.
---
GAODA MSPA Whirlpool-Filterkartusche, Ersatz-Filterpatronen für MSpa Bubble Spa Whirlpools, passend für Tekapo/Alpine, D-AL04, D-AL06, Silver Cloud, Toskana, Camaro, Nest, 6 Stück*
☛ Filterkartuschen für Pool☚ Das Paket enthält mehrere Poolfilter, die Ihr großes Volumen und eine lange Nutzungszeit auf einmal ausreichen können, wodurch die Zeiten des Kaufs des Filters häufig reduziert werden.
☛Schwimmbad-Ersatzreinigungsfilter☚ Der Poolfilter ist eine praktische Wahl, um den alten aufgeblasenen Schwimmbadfilter zu ersetzen, der wirtschaftlich und effizient ist, und Ihnen den fast gleichen Service wie der Originalfilter zu einem niedrigeren Preis.
☛ Kompakte Größe, einfach zu transportieren☚ Der Poolfilter ist kompakt und leicht, bequem mit dem aufgeblasenen Schwimmbad zusammen zu tragen, nimmt nicht viel Stauraum ein, perfekt für Reisen oder begrenzten Stauraum.
☛Gute Filterfunktion☚ Der Poolfilter verfügt über eine gute Filterfunktion, die der Original-Teilenummer B030196 entspricht, zuverlässig als Ersatz zu verwenden und Ihnen eine wunderbare Nutzungserfahrung.
☛Anwendungsbereich☚ Die verbesserte Version FD2089 Aufblasbarer Poolfilter passt auf alle MSPA-Modelle, Push- und Twist-Bajonett-Passform, was ein notwendiger Teil für den Sommer im Haushalt aufgeblasenen Schwimmbecken ist, um den alten zu ersetzen.
Zuletzt aktualisiert am 5. December 2023 um 22:00 . Ich weise darauf hin, dass sich hier angezeigte Preise inzwischen geändert haben können. Alle Angaben ohne Gewähr. (*) Bei den verwendeten Produktlinks handelt es sich um Affiliate Links. Ich bin nicht der Verkäufer des Produktes. Durch einen Kauf über den Link werde ich am Umsatz beteiligt. Der Preis ändert sich für dich jedoch nicht.
---
The filter can be conveniently removed. I rinsed it regularly under hot water. At some point, however, a replacement filter will be due.
Behind the cartridge filter sits another coarse screen in the wall of the inflatable pool.
During my monthly cleaning, I was able to remove some hair there as well. So the cartridge filter does not work at 100%.
By the way, I would like to mention at this point that my initial concerns about the design and position of the filter were not confirmed. The filter protrudes about 10cm into the tank. So far, it has not been kicked once while bathing.
In addition to the filter, I rely on water treatment with chlorine tablets. I had initially put a 200g MultiTab from the large pool into a floating chlorine doser.
Despite the smallest setting, I had to remove the tablet after 2 days because the smell of fresh chlorine was clearly to smell in the water.
I have therefore switched to 20g MultiTabs. I also left these in the pool at the smallest level of the doser.
Due to the regular circulation of the water, the chlorine was well distributed and I could not notice any fading on the pool although the doser had a preference for the right corner next to the filter outlet.
When using the inflatable whirlpool in the basement, I could also not detect any other "swimming pool odors" in the SPA area with the use of the small 20g tabs. The water quality was consistently okay.
---
Practical experience with the inflatable hot tub
The whirlpool works perfectly. The bubble bath offers optimal relaxation with a water temperature of 38°C. The maximum heat output is indicated as 42°C, which we managed according to the integrated thermometer.
To further enhance the SPA experience, you can resort to various accessories. In addition to headrests, there are also cup holders and special radios.
Due to our premises, we do not need a radio or a cup holder. However, the neck support was initially planned. After a few baths, however, it was clear that a separate neck support was not needed at all.
When lying in the corner, the head can be comfortably placed on the edge of the pool. With a height of 185 cm fits very well.
To soften the floor we placed a floor mat under the spa. Although the floor area is a bit thicker but the additional mats increase the comfort enormously.
---
Zuletzt aktualisiert am 5. December 2023 um 18:47 . Ich weise darauf hin, dass sich hier angezeigte Preise inzwischen geändert haben können. Alle Angaben ohne Gewähr. (*) Bei den verwendeten Produktlinks handelt es sich um Affiliate Links. Ich bin nicht der Verkäufer des Produktes. Durch einen Kauf über den Link werde ich am Umsatz beteiligt. Der Preis ändert sich für dich jedoch nicht.
---
Over time, the inflatable spa loses air. The walls sag downward and when you touch them, you clearly notice the pressure loss. Nevertheless, the pool remains dimensionally stable and no accidents occurred.
Due to the integrated inflation function, the whirlpool is inflated again within a very short time. Nevertheless, you should check the air pressure regularly.
Water changes have proven to be a bit more complicated. The pool has a drain at the bottom which is secured by a simple plug. The other end of the drain is located under the technical wall of the pool and is secured by a screw cap.
This area is relatively obstructed or difficult to access. When I wanted to unscrew the well-tightened cap, access at this narrow point was only possible with difficulty.
---
---
Once the cap is removed, a supplied adapter for the Gardena quick connector system can be screwed on. This makes it very easy to connect a garden hose.
Due to the narrow access, however, you should definitely make sure that the coupling has actually been firmly connected. Otherwise, part of the water flows directly to the ground by the pool.
I discharged the old water through the hose directly into the sewer. The old water from the pool can thus drain down to a water level of about 2 to 3 cm. Unfortunately, the firmly mounted plug on the inside regularly overlaps the drain.
This has massively delayed the water way several times.
---
EYEPOWER 4 Große Matten: 2,6m² Poolunterlage - 81 x 81 x 1cm Dicke Poolmatte -Unterlage Outdoor - Platten für Pool Schutzmatte unter Bodenmatte*
GRÖSSERE TEILE = STABILERER HALT - Deshalb: Finger Weg von 30 cm großen Matten! Für perfekten Halt ohne Löcher und Risse sollten die Bodenfliesen Deiner Poolunterlage immer so groß wie möglich sein.
81 x 81 X 1 CM: EXTRA GROSSE MATTEN - Unter Whirlpool & Planschbecken - egal, ob runder Pool oder eckig: Die Unterlegmatte sichert den Boden - als Bodenschutzmatte senkt sie dazu das Verletzungsrisiko.
VIEL STÄRKER ALS POOLFOLIE - Egal ob Whirlpoolmatte oder Schaumstoffunterlage für den Kinderpool: Mit den dicken Poolfliesen kannst Du Deinen Gartenpool endlich auf (fast) jedem Untergrund aufstellen.
RUTSCHFESTER EINSTIEG - Die Outdoor Bodenplatten sichern den rutschigen Boden am Rand und den Einstieg an der Treppe. Du kannst die Poolplatten ohne Werkzeug verlegen - das Puzzle System hält sicher.
KOMPROMISSLOSE QUALITÄT - Robuster Aufstellpool Untergrund - 4 Bodenfliesen ohne Umrandung - je ca. 81 x 81 cm - Fläche ca. 2,6 m². Die EVA Schaumstoff Matten sind wetterfest und extra pflegeleicht.
Zuletzt aktualisiert am 5. December 2023 um 18:47 . Ich weise darauf hin, dass sich hier angezeigte Preise inzwischen geändert haben können. Alle Angaben ohne Gewähr. (*) Bei den verwendeten Produktlinks handelt es sich um Affiliate Links. Ich bin nicht der Verkäufer des Produktes. Durch einen Kauf über den Link werde ich am Umsatz beteiligt. Der Preis ändert sich für dich jedoch nicht.
---
Emptying the last 2 to 3 cm is also not easy. I raised the pool on the opposite side, lowering the water level to <1 cm. We then turned the pool over in the garden and it was able to dry completely.
This is not possible in the basement, here the residual water (and dirt) can only be wiped out.
Filling with fresh water can then also be done with the hose, either as a hanging on the edge of the pool, or via the drain. I have ultimately opted for the 2nd variant because the hose was already mounted.
A disadvantage, however, is the (slight) water loss when the hose or hose coupling is replaced by the sealing cap. Here, at least the water in the drain pipe flows directly onto the floor.
Furthermore, it should be understood that this pool requires a permanent place of installation or storage. Due to the size and weight, the pool is quite bulky and heavy. Regular assembly and disassembly is therefore not very practical.
---
Video of the assembly and commissioning of our hot tub
The assembly and the 1st start-up of the inflatable hot tub MSpa Alpine Tekapo I have recorded in this video. You can find the corresponding blog entry here.
If you want to see more of me and my projects, feel free to check out my YouTube channel.
Abonniere COMMAIK auf YouTube
---
Conclusion inflatable whirlpool MSpa Alpine Tekapo after 1 year
The pool does its job exactly as we expected. Energy and water costs are a little below our projections.
In the garden I would not use the pool permanently because we have a large pool and the dirt input into the whirlpool is not to be despised.
However, it fits perfectly for the SPA area in the basement. However, a suitable ventilation concept should be observed because the water loss (water vapor) is not to be underestimated, especially with the bubble function.
Only the filter I do not like 100%. The cartridge cleans the water reliably, but the pool lacks the suction power to also suck surface dirt into the filter.
Dirt particles therefore float on the surface and at the bottom of the pool while the center is very clean. Through my experience with our sand filter system (which I operate with filter glass), I am somewhat disappointed in this regard.
If the space in the basement would have made it possible, an inflatable whirlpool with external sand filter would have been the 1st choice.
This leaves a minimal deficit (which we can live with well) with a very robust and compact design at the same time.
Dieser Beitrag ist auch verfügbar auf:
English
Deutsch